Colonial Military Complex
This military complex, within a short distance of the Dockyard, is not named after the fairer sex, but after Sir Thomas Shirley, Governor of the Leeward Islands, who strengthened Antigua's defences in 1781. Britain had lost all her West Indian colonies (including North America) at this time except Antigua and Barbados.
Much effort, therefore, was put into Antigua's defences, mainly because of the island's great sugar producing value and the important Dockyard. Shirley Heights may be divided into three sections.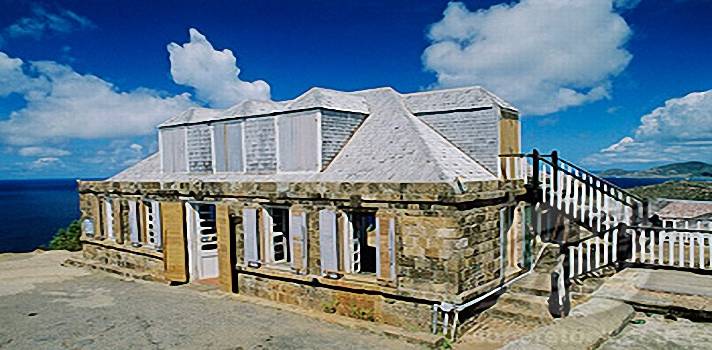 The Ridge and Artillery Quarters. A Ridge, on which several ruins may be noted, leads to the Heights. The first buildings on the left are the Royal Artillery Gunner's Barracks along with the Train of Artillery building (now a research centre), built in 1790 for 60 men. After the army left, it became a lunatic asylum.
The Lookout. This high point (about 490 ft.) affords a superb view of English and Falmouth Harbours, the best view in Antigua. Today, it is a Sunday afternoon rendezvous for a sampling of local music and culture. Behind the gun platform is the site of a flagstaff that once sent signals all around Antigua.
The Blockhouse
Blockhouse. This is the easternmost part of the military complex, with a magnificent view looking over the south-east coast. It was designed as a place of last refuge, which is indeed the meaning of the word. A moat opposing the vertical cliffs was originally planned, but was never started. The Officer's Quarters is in ruin as are the out buildings, servants quarters, married quarters and stables. There is a fine powder magazine, cistern and catchment that has received some restoration work.
Today, the complex is mainly in ruin except the Lookout that has been reutilised as a restaurant. Unfortunately, even though a CFTC historical architect drew restoration plans, the building was reconstructed as a profit making investment, the main problem being the use of dormers and the battlement built on where another section further north had been designated.
The splendid arches of three Officer's Quarters were destroyed by various hurricanes due to the lack of preventative shoring up of the walls, (due to lack of funds). They now need to be rebuilt with the saved original masonry. The site is still a fine tourist attraction, mainly because of two of the best views (of the Atlantic and of English Harbour) to be had in the island.