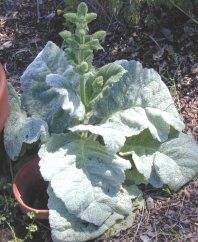 Clary Sage Salvia Sclarea
Horminum Pyrenaicum
Clary Sage or Salvia Sclarea is apart of the Labiatae family and it yields a colourless or pale yellowish green oil by steam distillation. It has a sweet, fresh and clean, scent. With warm herblike nutty, balsamic undertone. Clary Sage is native to Southern France, Italy, Syria. Now it is worldwide, Mediterranean, Central Europe, England, Morocco, Russia and the United States. The best oils come from England, France and Morocco.
It blooms from May to September, spirally pale blue, purple or pink flowers on top of each spike. The heart shaped green leaves have soft and fuzzy crinkled surfaces and surround the flowers. It is biennial or perennial. Is a member of the Lamiaceae family and grows to 3 to 5 feet tall.
The Common Garden Clary is a biennial plant, its square, brownish stems growing 2 to 3 feet high, hairy and with few branches. The leaves are arranged in pairs, almost stalkless and are almost as large as the hand, oblong and heart-shaped, wrinkled, irregularly toothed at the margins and covered with velvety hairs.
The flowers are in a long, loose, terminal spike, on which they are set in whorls. The lipped corollas, similar to the Garden Sage, but smaller, are of a pale blue or white. The flowers are interspersed with large colored, membranous bracts, longer than the spiny calyx. Both corollas and bracts are generally variegated with pale purple and yellowish-white.
The seeds are blackish brown, contained in long, toothed husks, as an old writer describes the calyx. The whole plant possesses a very strong, aromatic scent, somewhat resembling that of Tolu while the taste is also aromatic, warm and sightly bitter. According to Ettmueller, this herb was first brought into use by the wine merchants of Germany, who employed it as an adulterant, infusing it with Elder flowers, and then adding the liquid to the Rhenish wine, which converted it into the likeness of Muscatel. It is still called in Germany Muskateller Salbei (Muscatel Sage).
Beauty Benefits
It promotes healthy skin cell growth, helps ward off wrinkles and gives skin a healthy, youthful look. It helps control oily skin and hair. It helps control acne and seborrhoea. It also helps control dandruff, dry skin and hair. If used as a scalp massage, it can encourage hair growth and lessen hair loss.