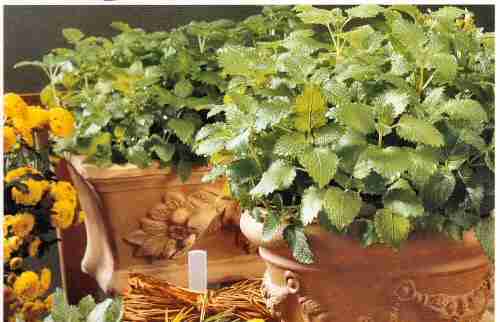 Lemon Balm Melissa officinalis
This fragrant, lemon-scented herb, also known as Melissa or simply balm, is native to the Mediterranean region and the Near East. For centuries, it has been valued for its medicinal and culinary uses. In the tenth century, it was grown by European monks in monastery gardens and made into curative tonics. Today, the plant is cultivated in herb gardens throughout the -world.
Lemon balm is said to have a soothing effect on the entire nervous system, making it useful for treating such conditions as insomnia, nervous tension and stress-related digestive upset. The leaves and shoots of the plant, both fresh and dried, are the parts used in cures. The herb is easy to grow in garden plots, containers or window boxes. Loves bright, sunny places as well as L__L3I protected hillsides.
Prefers moist soil with high humus content and good drainage. Grows approximately 1-3 ft. high and spreads quickly. Lemon balm leaves are best harvested during May and June, before the plant blossoms. American colonists brought lemon balm from Europe to plant in their new gardens. The herb Is included in recipes from Colonial Williamsburg. It is also listed as an official medication in nineteenth-century medical books.