Pineapple Sage
This is a semi woody shrub, mostly herbaceous plant will grow to three to five feet in height, and have an open branched, airy habit. Like most other mints, Pineapple Sage has stems with a square shaped cross section.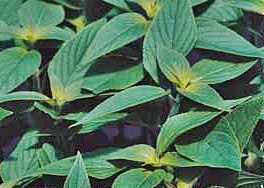 When foliage is bruised, it smells like fresh pineapple. Pineapple sage should be used in center of beds and borders. Its open, airy structure will not hide other plants. fragrant leaves should be crushed into either hot or iced tea for a delicious treat.
flowers are delicious and can be used to add both color and flavor to salads and desserts. Pineapple sages will make stunning centerpieces as well as great border plants. '8 - 10' Full Sun Garden Home Family Annuals Herbs Salvia Elegans.